"You say it's your birthday (nah, nah, nah, nah, nah, nah, nah, nah). It's my birthday too yeah." No really. . .
IT IS my birthday
! This morning I woke up to the best birthday present. Can you guess what it was???? Here's a hint - - look around - - do you see something different??? Ding, ding, ding you got it - - it was my
BLOG MAKEOVER Superstar Edition
!
I was fortunate enough to have the one and only Jena Snowden from
1st Grade With Miss Snowden
agree to do my makeover. I can't say enough about how wonderful Jena is. She took my lack of vision and turned it into this fantastic blog design that makes me smile every time I look at it. If you like my new design be sure to hop over to Jena's blog by clicking on the picture below and let her know.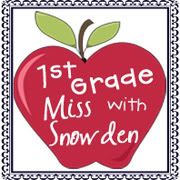 Well, that's all for now -
SHINE on everyone
!!