Sound the trumpets. . . it's time for my second installment of
SUPER HERO SUNDAY
.
Super Hero 1
is one of my favorite first grade blogs. Reagan from Tunstall's Teaching Tidbits is fantastic. She not only shares great ideas with tons of pictures but she also shares her lesson plans with us every week. I've pinned so many great math, reading and writing ideas from her blog. This year I would really love to do her classroom pet idea with my kiddos.
Super Hero 2
is Nicole from Rowdy in Room 300. This is one of my go to kindergarten blogs. This week my kinders used Nicole's Fall Ten Frames worksheet and it was perfect. Not only does Nicole share great ideas but she also creates and shares her own fonts for FREE. Yes, you heard me right font-a-holics. . . FREE FONTS that are super cute.

Super Hero 3
is Lori from Teaching With Love and Laughter. I LOVE, LOVE, LOVE reading Lori's blog. She is soooooooo incredibly talented and is seriously one of my ALL TIME favorite blogs. When I see a new post from her pop up on my blog roll I immediately head on over to her blog. If you are looking for blogging tips, common core ideas, reading, writing and math ideas, be sure to check out Lori's blog.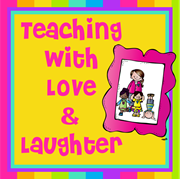 Well there you have it, in random order three of my blogging Super Heros. If you haven't started following them yet. . . what are you waiting for?? Well I'm off to spend some more time with my real life Super Hero, my MOM.
SHINE on everyone!