Welcome to
Super Hero Saturday.
Each week I would like to take a few minutes to give a shout out to some of my fellow bloggers who are my super heros. Today I am featuring one primary and one intermediate blog.
Super Hero 1
is one of my favorite kindergarten blogs, the super talented Erin from
Eberhart's Explorers
. I cannot tell you how many fantastic ideas I have "borrowed" from her over the past few years. One of the things that I LOVE about Erin's blog is that she always takes TONS of pictures of her classroom to share so you can actually see her ideas in action. Any teacher who has a Grinch day during Christmas time is going to be ranking high on my list so be sure to check her out. I promise you that you will not be disappointed.
Super Hero 2

is one of my favorite tell it like it is bloggers, the one and only Farley from

Oh' Boy Fourth Grade

. Farley blogs about both her classroom and her personal life. Seriously she is hilarious. Because of her I have added phrases like "cray, cray" to my vocabulary. This year instead of coming up with a New Year's resolution Farley introduced me to the idea of OLW which I still keep in the back of my head when I'm setting goals each week (click

here

to read more). Farley also hosts one of my favorite linky parties ~ Currently. Each month I take a moment to write about what I am currently up to. It's like a monthly journal for me and I love it.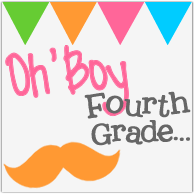 Speaking of Currently, I know I'm a little tardy for the party but here is my Currently for June.
So there you have it two of my Super Heros. Be sure to come back every Saturday this summer to see some more of my favorite blogs. Well I'm off to do some blog stalking. SHINE on everyone