Ready or not here it comes. . . it's the final countdown people. I think Reagan from
Tunstall's Teaching Tidbits
summed it up best when she called the problem at hand
GR13C
(Google Reader 2013 Crisis)
. But don't panic, you can still follow me by jumping aboard the Bloglovin' train.
I want to say a big HUGE thank you to the super sweet Anna from
Crazy for First Grade
for letting me use her Bloglovin' button. Seriously. . . how cute is that button??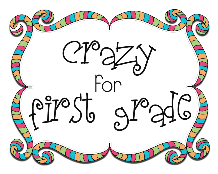 If you haven't already switched your blog over to Bloglovin' and you are as confused about this whole
GR13C
as I am then
click here
to read a post by Jessica from
A Turn to Learn.
She actually has several posts that you will want to check out. Well I'm off to do some blog stalking.
SHINE on everyone